The Benefits of Yoga for Kids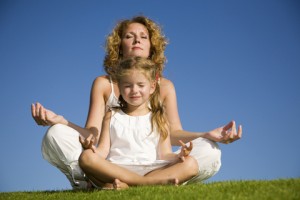 In the exercise and fitness world, there are many trends that are here today, gone tomorrow.  Many fads have come and gone, and so it is fairly easy to not want to believe in any new breakthroughs in the world of fitness.  But, yoga is different, as it has stood the test of time because of the benefits both physically and mentally that those who practice yoga notice.

A rising trend is to have children begin to practice yoga.  Many kids do not get enough exercise, and kids are beginning to have a lot more stress and tension.  Yoga is a great way to help to curb obesity in children, and to help to alleviate some of that stress.
How to Find the Right Place or Video
Be sure to research either the yoga class or the yoga video you're going to use to teach your children yoga, as some people may not like the heavy spiritual influence.  Be sure to check into whether it is more fitness or spiritual oriented, and which suits you and your child best.
You also want to see how physically demanding the class is.  There should be classes for different age levels.  Even then, you don't want your child to simply hate yoga because they are placed in a class that may be too strenuous for them.  Try to find a basic course and as your child gets better, consider increasing the intensity of the course.
Is Yoga the Right Thing for your Child?
If your child has trouble sitting still for a longer period of time, or if they have a very short attention span, Yoga may not be the thing for them.  They could be disruptive, and ruin the focus of other children.  You also can try finding an instructor who has a lot of patience dealing with kids, especially those who are a bit more hyperactive then the others.
While TV, movies, and video games have their place, getting your child to participate in activities is necessary for the future health of your child.  Yoga for kids can be a great way to go.