Welcome to Home Yoga Fitness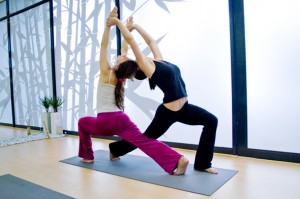 Developed in India more than 5,000 years ago, yoga consists of a series of poses (known as asanas) that you hold from a few seconds to several minutes.
The moves — a blend of strength, flexibility, and body-awareness exercises — are intended to promote the union of the mind, body, and spirit.
Most forms of yoga focus on relaxation and deep breathing as you perform and hold the poses.
Yoga classes have a different feel than the usual Western workouts, often including a spiritual element such as chanting or burning candles or incense. (However, many classes these days dispense with the traditional Indian touches and just get right down to the business of kicking your butt.)
The most common misconception about yoga is that you have to be as flexible as Gumby to do it. In fact, there are many, many variations on the poses, and a good teacher can teach you to do them in a way that accommodates your level of flexibility. As you improve, you'll need fewer modifications.
Here at Home Yoga Fitness you can learn about the several types of yoga styles available and poses as well.