Yoga Mat and Equipment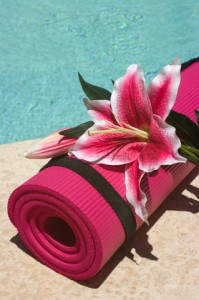 Yoga doesn't require a large commitment of equipment and clothing. Some people wear leotards; others wear baggy clothes; still others go without clothing altogether (an option if you're working out at home, but you won't find many clothing-optional classes).
The one piece of equipment you absolutely do need is a yoga mat, one that's sticky or tacky (that is, nonslip), as opposed to smooth or slippery.
Look for a mat that's at least 68 inches long by 24 inches wide — longer is better, if you can find one. If you'd like to try yoga once or twice without investing in a mat, you can use a thick towel or blanket. Look for a yoga mat at your local sporting goods store, yoga specialty shop, gym, yoga studio, or at online shops.
Unlike most other fitness activities that require a major investment in footwear, yoga is generally practiced barefoot, although some practitioners do wear socks.